"To make progress; to move forward in space; to continue onward in course; to proceed; to advance; to go on."
This is the definition of Progress. Everything that we do in life is to make progress…to move forward towards a goal and achieve it.  This is certainly no different in the Real Estate business.  Realtors and Lenders are looking to make as much progress, do as much business as they can in the most streamlined process available.  Realtors and Lenders are always looking for ways to conduct business more efficiently so that it leads to more closed transactions which leads to more referrals and so on. So with all of this new real estate technology…where do you start?
As we move forward in this game called the Real Estate business there is one thing that is moving faster than any of us can imagine.  That thing is Technology. There are SOOO many things that are bombarding us everyday that are supposed to help Realtors and Lenders do more business in that more efficient way.  So what should you focus on and use and HOW do you get the most out of it?
QR Codes
QR(Quick Response) Codes have been around for quite awhile but just recently in the last 2yrs or so have they made a big push to become popular in magazines, billboards, signs, and in Real Estate.  Many Realtors and Lenders have them but what is the most effective way to use them?  Using a QR Code on the back of your business card is a great thing to do.  Most people waste the back of their business card so it is just blank.  Create the QR Code http://zxing.appspot.com/generator/ and you can direct it to any URL you wish.  This can be your website (HUB) or some other page.  For a Mortgage Lender I would recommend it go to a "squeeze page" which is linked to your website that allows someone to apply for a mortgage loan.  Not a full application but a place to capture the person's information and have them tell you what they are applying for?  Purchase…Refinance…what?  Have the lead tied to your phone email and start capturing leads.  As a Real Estate agent having the QR Code go to a Video http://youtu.be/WH70YVhdqMw telling the consumer who you are and how you can help them.  Make the video informational and at the end…give them your contact information and also drive them back to your website. 
Websites
I have talked about his many times in my previous blogs but this one is very important.  Mostly all agents have websites for their Real Estate business but few know how to get the most out of them.  Rule #1…don't use anything that you don't own.  If you don't own your site, don't use it as your primary website.  If the terms change and you leave your brokerage or if the company providing you the site goes under you are in trouble.  Get a WordPress website that you own and is designed for blogging, video, and getting found online.  Your Real Estate website is your HUB, the center of your business (See diagram above).  This is where you want everyone to go to see your videos, blogs, and testimonials.  It is important to have a strong Call to Action to get the consumer to fill out a form on a site to be contacted by you.  You will generate leads and the consumer doesn't feel like the only way to get the additional information they want is to call you.  Template sites like most Real Estate companies provide can be effective if you are adding a lot of content or if I know to go to your site, but what if I live in Iowa and want to move to Washington DC or Virginia and I don't know who you are…how do I find you?  WordPress…
Video
Video is one of most powerful tools you can use in your Real Estate business.  Video gives the consumer a Face, Voice, Personality, and gives them a chance to feel like they know you.  The consumer also gets to see and hear you talk about your USP (Unique Selling Proposition) and how you can help them with what it is they went online to look for.  Don't make your video's too long, roughly 2-3 minutes or the consumer will get board and click off.  I put an intro video to my website so when a Realtor or Lender comes to my site they can see who I am and how I can help them. You can shoot videos in your office talking about something that is exciting in your business, shoot videos of the subdivision you Farm, Video testimonials of clients that had a good experience with you, and post it to your YouTube channel and website.  Google owns YouTube so Video is indexed online very quickly.  Consumers love video and 9/10 times a consumer will click on a video if given the option over a website link.
Social Media Outlets
Social Media is great to stay in front of family, friends, past clients, and to connect with new people.  It should NOT be used as your sole Real Estate website or marketing presence online.  If this is the case you are in trouble.  I love Facebook, Twitter, and the others but I DON'T like to be marketed to or spammed on those sites…you probably don't either.  Use the Social Media outlets to engage, inform, and educate people in your circle about information in your field, how you can help them but don't hard core sell them.  They will start to ignore your posts.  Use the Social Media outlets to drive those same people you are engaging and informing back to your website where they can get the full information they want and then sign up on your site for more information to be contacted by you.  This is another way to capture leads. 
Your Real Estate website is your HUB…the center of your wheel and the Video, QR Code, Direct Mail, Emails, and Social Media Outlets are the spokes that are to be used to inform and engage and then drive that same consumer back to your website. 
Need Help with Real Estate Technology? Need a New Title Company?
My name is Wade Vander Molen and I am the Director of Sales and Marketing for Stewart Title and Escrow.  I help Realtors and Lenders grow their business.  If you need need assistance getting more leads and closing more deals fill out the form below and I will contact you shortly. 
Take a moment and Subscribe to my Blog and YouTube Channel in the top right hand corner!
Work With Wade
Interested in growing your real estate business with Pruitt Title? Please fill out the form below and I will contact you shortly. Thanks, Wade "DCTitleGuy"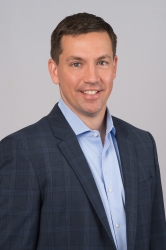 Latest posts by DCTitleWade1
(see all)